It's Time to Change the World.
Seriously. We're running out of time, and there is literally nothing better to do.
So, reality's funny. I still have plans to eventually purchase a larger space and turn some of the ideas shared at  https://solarpunkcommunity.com (which desperately needs updating) into a beautiful, brilliant, world-changing reality. For now, we've landed on a slightly smaller piece of land – 1/4 acre in SE PDX with some solid infrastructure that we are already building out as a community hub. Mutual aid, trainings, food production – it's not much, but it's what we can do. The goal is to build things out as the prototype, essentially, for a larger piece of land. Something scalable, replicable, and as affordable as we can make it. Sustainability (and survivability) needs to be accessible to all, especially the "economically disadvantaged".
If you know me at all, you know I don't do idle particularly well. In addition to the homestead stuff, we're getting things organized and geared up for expansion at https://backtohope.com , our little soap enterprise. It's pretty fantastic soap, fwiw. 😉 I'll be updating that site as well to showcase our environmental and social efforts there, as well – we're registered as a B Corp and are currently in the process of pursuing certification. Zero-waste is one of our primary goals.
I'm brushing up on my project management game and hoping to potentially continue down that path professionally. I've definitely come to realize lately that I'm pretty burned out on the whole web design / UX thing. The skills and experience obtained, however, are SUPER useful in project or program management. I think that way anyway, and my burner nickname is MomDad, if that's any indication of how I roll. LOL Regardless of how it plays out professionally, diving into that mindset again has been incredibly refreshing and beneficial across a variety of areas in my world.
Also, I got a puppers!! Ivy is about 7 months old (as of April 2022), weighs almost 70 pounds, and is a gangly, awkward, brilliant, beautiful, sensitive, independent doofus. I am in love. And learning a lot. You can find her on IG as @pyrfect.ivy if you do that sort of thing.
… I live life out loud. I leap and yell, "catch me!" – without knowing that someone will be there to do so. I've just always been that way. I'm still alive, and I've learned a ton along the way, so I guess it must be alright! I believe that we have the ability to influence reality (whatever that is), and that by focusing our time and energy and resources we can move mountains.
Never doubt that a small group of thoughtful, committed citizens can change the world: indeed, it's the only thing that ever has. – Margaret Mead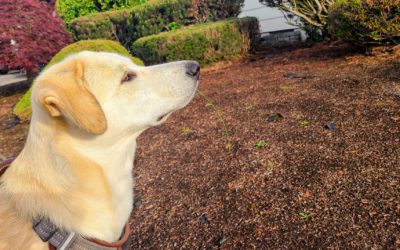 I've always been the optimist in the group. The one who sees the silver lining, the potential, the lessons learned and benefits gained and strengths or skills obtained from any given life lesson. It's why I named my business Back to Hope - hope has been a guiding...